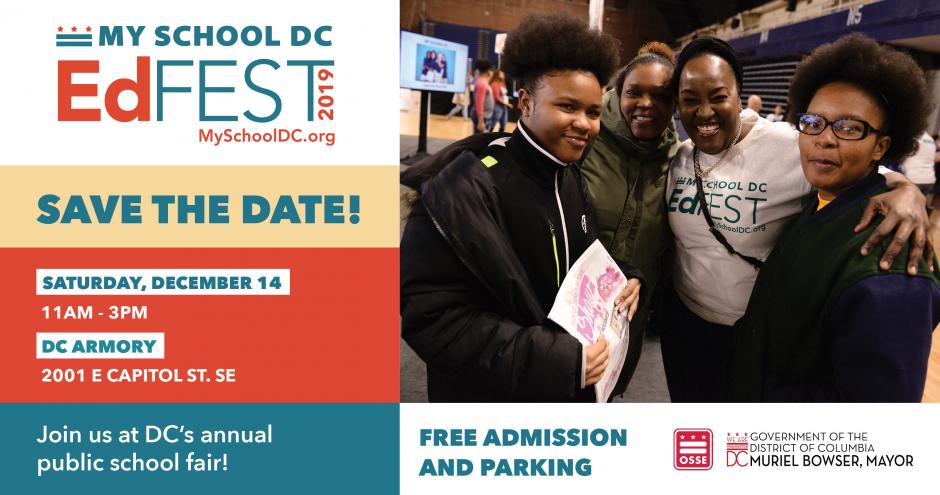 Find the school your child will call My School.
My School DC is excited to bring you EdFEST, DC's annual public school fair!
Save the date!
Saturday, December 14, 2019
11:00 a.m. to 3:00 p.m.
DC Armory (2001 East Capitol St SE)
FREE admission and parking
Let us know you're coming! RSVP here.
Interpretation in American Sign Language, Spanish, Amharic, Mandarin, Vietnamese, and French available throughout the day.
Spread the word! Download your EdFEST flyer today: English | Spanish (Español) | Amharic (አማርኛ፤) | French (Français) | Chinese (中文) | Vietnamese (Tiếng Việt)
Volunteer at EdFEST – we'd love to have you! Register HERE.
Transportation
Metro Station: Stadium–Armory (Orange/Blue/Silver lines)
Metro Bus: B2, D6, 96, 97
Free onsite parking: Lots 3, 4 and 5
About
Come to EdFEST and meet the city's public school options (PK3 – grade 12) for your child. Representatives from DC Public Schools (DCPS) and public charter schools will showcase their programs. With the launch of the My School DC lottery application on December 16, 2019 for the 2020-21 school year, EdFEST is a timely event to help you make informed school selections.
EdFEST will also feature many free services and fun activities for the whole family:
Lottery application information and guidance from the My School DC team – learn how it all works!
Flu shots and vaccines for youth and adults, health screenings for kids and teens, health insurance plan information, and lots more family fun and games brought to you by the DC Department of Health, Safeway, and MedStar Georgetown University Hospital
Recreational activities brought to you by the DC Department of Parks and Recreation, including information about DPR Fun Days, Winter and Spring Break Camps, and Cooperative Play
Register for a library card with DC Public Library, sign up for Books from Birth, and learn about the library's Go Digital campaign
Plan for EdFEST in 3 steps
EdFEST is a unique opportunity to learn about all your public school options (PK3 – grade 12), including key resources that will support you and your child throughout your child's educational journey. Follow these three easy steps to have a successful EdFEST:
Step 1: Think about what's most important to you and your family in a school. Is distance from home important? Before and after care? Academic offerings? Extracurricular activities?
Step 2: Make a list of schools to visit, including your DCPS in-boundary schools. You can apply to up to 12 schools on the My School DC application. Use the School Finder to search by address, grade, and program type and find DCPS and public charter schools near you, including your DCPS in-boundary schools.
Step 3: Ask questions! Download these helpful questions and bring them with you as you visit school booths on your list to help narrow your choices.
Exhibitors
Schools are excited to meet you! All DCPS and public charter schools that participate in My School DC will exhibit at EdFEST.
The following options outside of My School DC will also exhibit at the event:
Kingsman Academy PCS (Grades 6-12)
Maya Angelou PCS – High School (Grades 9-12)
St. Coletta Special Education PCS (St. Coletta's is an "ungraded" program serving students ages 3 through 22 years old.)
Associates for Renewal in Education (PK CBO)
Barbara Chambers Children's Center (PK CBO)
Bright Beginnings (PK CBO)
Bright Start Early Care & Pre-school (PK CBO)
CentroNia (PK CBO)
Christian Tabernacle Child Development Center (PK CBO)
Communikids Pre-school and Children's Language Center (PK CBO)
Educare of Washington, DC (PK CBO)
Edward C. Mazique Parent Child Center Inc. (PK CBO)
Gap Community Child Center (PK CBO)
Ideal Child Development Center (PK CBO)
Jubilee Jumpstart (PK CBO)
Kuumba Learning Center (PK CBO)
National Children's Center (PK CBO)
Nation's Capital Child and Family Development (PK CBO)
Spanish Education Development (SED) Center (PK CBO)
Sunshine Early Learning (PK CBO)
Key Services
Stay tuned for a list of key services that will be available to you at EdFEST!
Media Partners